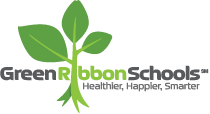 During late September of 2011, Secretary of Education, Arne Duncan, made the official announcement for the pilot year of Green Ribbon Schools to be set for 2012. For the summer months beforehand the US Department of Education was vigorously working on creating the specific guidelines and criteria for this program. The goal of Green Ribbon Schools is to recognize green schools that have strong environmental impact, are energy efficient, provide a healthy environment within the school, and offer eco friendly education to students.
The Green Ribbon Program is beneficial to the environment and the health of students and faculty. Improvements in schools facilities save money and create new jobs within the school. Also, natural resources are conserved and students are given the opportunity to experience and participate in a green economy. Furthermore, students will also learn healthy behaviors, which result in increased standards in nutrition, fitness, attendance, and productivity. Now that we understand the benefits, how are schools considered for this award?
In order for schools to be considered for the Green Ribbon Award they must first be nominated by their states chief education officer. From there, state education officers evaluate each school nominated based on their criteria and guidelines. Next, the Department Of Education further evaluates the top nominees. Each state is allowed to have one recipient of the Green Ribbon Award. The winners will receive national and local recognition and may even be awarded private financial assistance.
This spring, schools across the nation will work intently on creating an environmentally friendly facility in hopes of being named a Green Ribbon School. All participating schools will reap the health and educational benefits of this fantastic program. The Green Ribbon Program hopes that they will have some tough decisions to make when choosing the awards recipients this spring.